This page shows how our Airac compares against Coverity.com's SIMPLE_BUFFER checker.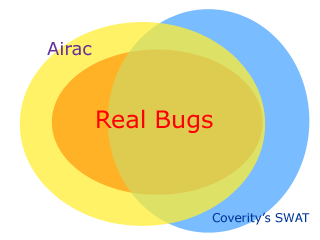 Airac detects all the real errors detected by Coverity's.
Airac detects some real errors that Coverity's misses.

Airac detects more errors (e.g.

cdc-acm.c, line 703 and line 625, 626

) than Coversity's.
Not all those more errors are false alarms.

Airac avoids some false alarms (e.g.

ip6_output.c, line 348

) generated by Coverity's.
Airac ran on a Pentium4 3.2GHz box with 4GB of main memory running GNU/Linux kernel version 2.6.8. The C files tested here are part of the Linux kernel, version 2.6.4.
Test Results
#Airac Alarms

#Buffers: the number of buffers that may be overrun.
#Accesses: the number of buffer-access expressions that may overrun.

#SWAT Alarms: the number of SWAT's buffer-overrun alarms
#Real Bugs: the number of buffer-access expressions that can really overrun.
Last updated: Thu Jan 20 14:00:24 2005 +0900
---
©
ROPAS
, Jaeho Shin <netj@ropas.snu.ac.kr>.