Visiting Information
Reaching us
Programming Research Lab. is at Room 312-2, Building 302 (Shin-Gonghak-Gwan, or New-Engineering Building), Seoul National University (SNU).
Prof. Kwangkeun Yi's office is at Room 428 Building 302.
From Incheon International Airport (IIA), use the Airport Limousine bus to get to SNU main gate. Then, use public bus or taxi to Bldg 302.
From Seoul downtown, use subway and then transfer to public bus.
Limousine bus (No.603) between ICN and SNU main gate. This might be the best bet. (~ 80 minutes)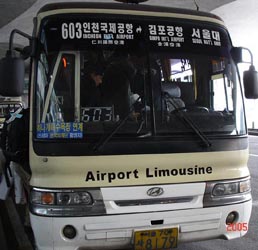 Fare: 7,000 Won (about 7 U.S.dollars)
Interval: 15 ~ 20 min.
Bus stop at the airport: 6B, 13A
Stops at the main gate of Seoul Nat'l Univ.
From SNU main gate to Bldg 302 (~ 15 minutes)
By Subway
From Seoul downtown to SNU, the best way is to use the subway/metro. (Seoul Urban Rail)
The closest station to SNU is Seoul Nat'l Univ. (station number is 228) on the line 2( green line).
Get off there and leave the station through exit number 3.
Then walk straight ahead for approximately 40 meters until you find a bus stop for bus number 5512 , 5511 or 5513.
Facilities nearby
Hoam Faculty House
You can visit Hoam Faculty House directly, following this instruction.
Foreign Faculty Apartment
Take bus 02 to go to the Foreign Faculty Apartment from building 302.
Visa information for colleagues from abroad
Short-term Visitors: tourists visa
This category is for those who will visit us for a couple of days or weeks, without monthly salary.
No specific type of visa is necessary: just a 90-day tourist visa is enough. We will provide a letter of invitation if necessary. Prospective visitors must contact local Korean consular offices to get the tourist visa.
Short-term (< 90 days) Employee: C4 visa
This category is for those who will stay with us for one-up-to-three months with monthly salary.
Prospective employees must contact local Korean consular offices to get the C4 visa. The necessary documents are:
a contract/invitation letter
an employment recommendation letter from SNU
C4 application form
and your color photo, and passport.
We will provide the first two letters.
Long-term (>= 90 days) Employee: E1 or E3 visa
Long-term prospective employees need to obtain E1 or E3 visa, which are reserved for teachers (E1) and researchers (E3). Because we first has to petiton the Taejon (or Seoul) Immigration Office, you have to send us the following documents for the necessary paperwork:
Photocopy of passport
Photocopy of diploma
A letter from the current institution stating your affiliation or employment
Curriculum Vitae
Signed employment agreement with ROPAS/SNU.
If you are accompanied by your family, you have to send us the following additional items:
Photocopy of each family member's passport
Marriage certificate and, for children, birth certificates
On receiving the above set of documents, we will petition the Seoul Immigration Office for the E1/E3 status. When we receive the approval notice, we will immediately let you know via email or fax and will send you the original document of the approval notice.
Upon receiving the approval notice, you have to file an E1/E3-visa application with local Korean embassy or consular office. The approval notice must be then submitted along with other documents that the consular office requires. It will take a few days for the visa issuance.
Please note that all E1/E3 visa holders are required by law to complete the foreigner registration process within 90 days of entering Korea.
Korea Travel Links